When it comes to choosing a new front door for your home, you have 2 material options to choose from: fiberglass or steel. They are both great options for their own reasons, so you need to weigh the pros of each to find out which one is best for you.
Before you make a decision on material, make sure you learn the difference to make the right choice. Here's how each type of entry door stacks up for major door-buying factors.
Fiberglass Doors
Authentic Wood Look.

Available in smooth or wood grain texture.

Strong, durable, lightweight.

Great durability, so the door will not rust. It can resist denting and warping.

Rot resistant composite, bottom rail, and door facing.

Lowest maintenance and resists denting and scratching, and can be cleaned with mild soap and water.

The solid construction provides significant security.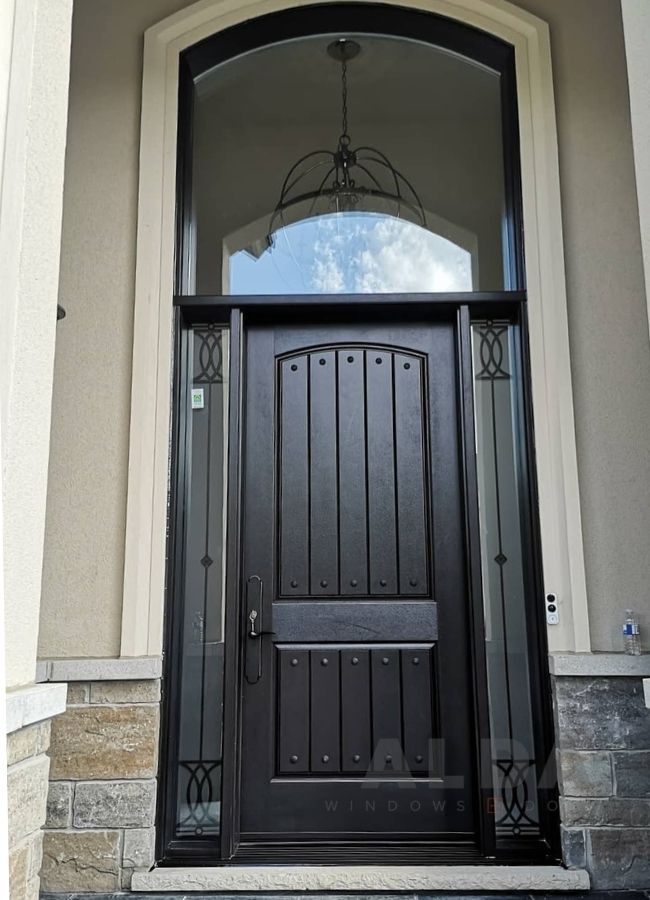 Steel Doors
Two Finish Options: can come painted in the color of your choice or prefinished white.

The frames on these doors are made of a Vinyl wrap and are virtually maintenance-free.

Rot resistant bottom rails.

Rust resistant.

Resists cracking and warping.

Because of their durability, steel entry doors offer the best solution for property owners who are concerned with the security for their home.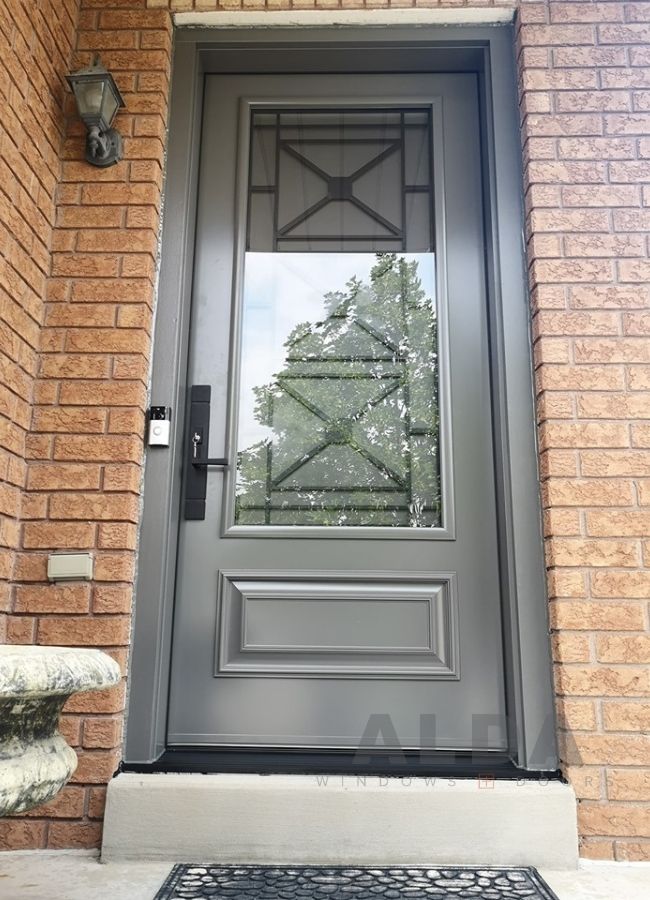 Energy Efficiency
When choosing a new door, energy efficiency is one of the most important things people look for. Steel and fiberglass doors are energy efficient, helping you save on your heating and cooling bills. Energy efficient choices can save you up to a third on your energy bill, and the best part about choosing ALDA Doors is you don't have to sacrifice style or comfort.
Appearance
Fiberglass Doors come in many styles, colours, and grains. They are a top choice for homeowners who want security but also beautiful doors.
Steel Doors can be painted to match the home style. They provide a smooth, unique entry door for many homes.
Maintenance
Maintenance is not extensive for either fiberglass or steel doors.
Doors can be wiped down with water to keep clean. They do not need regular cleaning.
When choosing a new door, you might have some questions that influence your decision as well. Below are some common questions that people ask when looking for a new front door – and their answers too!
Are there different grades of fiberglass doors?
Fiberglass doors are available in a wide range of styles that can appeal to your sensibilities regarding the style of your home.
Will the stain fade on my fiberglass door?
The stain will not fade, as the door is baked in a high temperature that prevents fading from occurring.
Can the dog scratch my fiberglass door?
Fiberglass doors will not show deep gouges on the surface, so you don't have to worry about your dog leaving scratch marks.
Can the dog scratch my steel door?
A dog or cat likely won't scratch the steel itself, although you might have to touch up the paint if scratched.
Do I need a storm door with my fiberglass door?
Storm doors offer protection and insulation, but fiberglass doesn't require a storm door for either reason. You should only add a storm door if you desire one.
So, have you decided what material you want to choose for your door yet? If not, don't worry, we can help you decide which door is the perfect fit for your home. Get in touch with us today to start planning your new entry door!