Brown Single Door Installation in Old East York
Enhancing a Home's Entrance with a Brown Single Door
It all started with an inquiry from a homeowner in Old East York who was looking to infuse their entryway with a new modern door. At ALDA Windows and Doors, we're known for turning visions into realities. After a long discussion with the owner, the choice was clear: a brown single fiberglass door elevated by a huge frosted sidelite. 
As we embarked on this project, our meticulous approach ensured more than just an installation – it was a transformation. The trendy wood grain pattern added character, blending seamlessly with the home's ambiance. Our team expertly fitted the door, ensuring highly effective insulation for a draft-free and cozy interior. The durable fiberglass material promised longevity, making this door an investment in the home's future.
One huge frosted sidelite
Trendy wood grain pattern
Highly effective insulation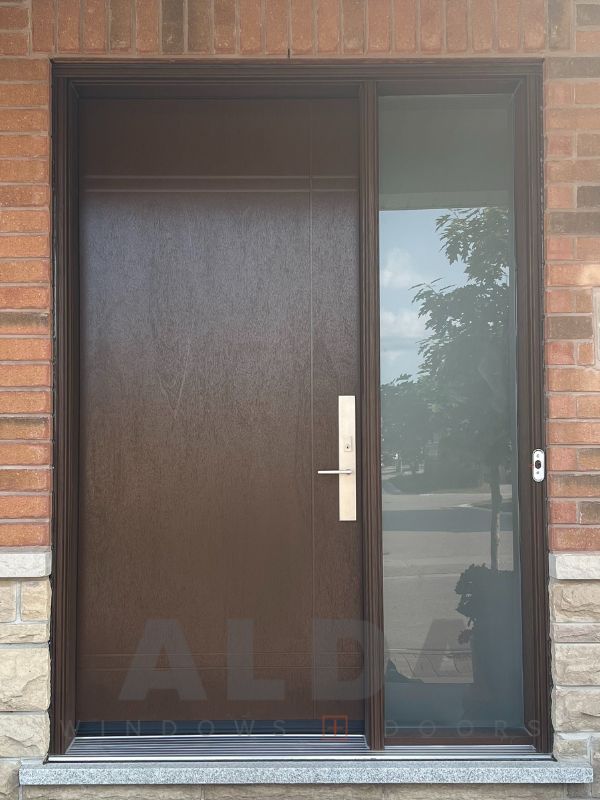 Elevating Homes Across the GTA with Expert Craftsmanship
At ALDA Windows and Doors, every installation is a testament to our passion for craftsmanship. Our expert installation team brought this vision to life, seamlessly integrating the brown single door and its stylish sidelite into the home's structure. As the door swung open, it wasn't just a passage; it was a reflection of the homeowner's taste and our commitment to quality.
But we don't stop at one project or one neighborhood. Our reach extends across the Greater Toronto Area (GTA), serving homeowners who share our passion for enhancing their living spaces. From Old East York to every corner of the GTA, ALDA Windows and Doors stands as your trusted partner in crafting inviting and stylish entryways. Let us transform your home today!