Charcoal Black Front Door Replacement in Oshawa
Charcoal Black Front Door Replacement in Oshawa
Our Oshawa client wanted a revamp of their main entryway to amplify their home's allure. During their search for a premium door provider, they stumbled upon ALDA Windows and Doors' online platform. The range of front door options that we offer caught their attention, and ultimately, they opted for a striking charcoal black single-entry fiberglass door that would flawlessly meld with their home's overall aesthetic.
We coordinated an installation schedule that was convenient for them. Arriving at the specified date and time, our skilled team came equipped with all the requisite tools and materials to ensure a seamless installation process. The first course of action was the removal of the existing door and its frame, done with the utmost care to prevent any damage. We then marked and measured the area for the new door frame installation, making certain it was levelled and correctly aligned. Subsequently, our team embarked on the installation of the new door frame, securely fastening it with screws and applying shims for a perfect fit. We attached the charcoal black single-entry fiberglass door to its hinges, confirming it functioned without any hitches. Once the door was accurately aligned and tested, we sealed it with weatherstripping to create an airtight seal, effectively eliminating any chances of drafts.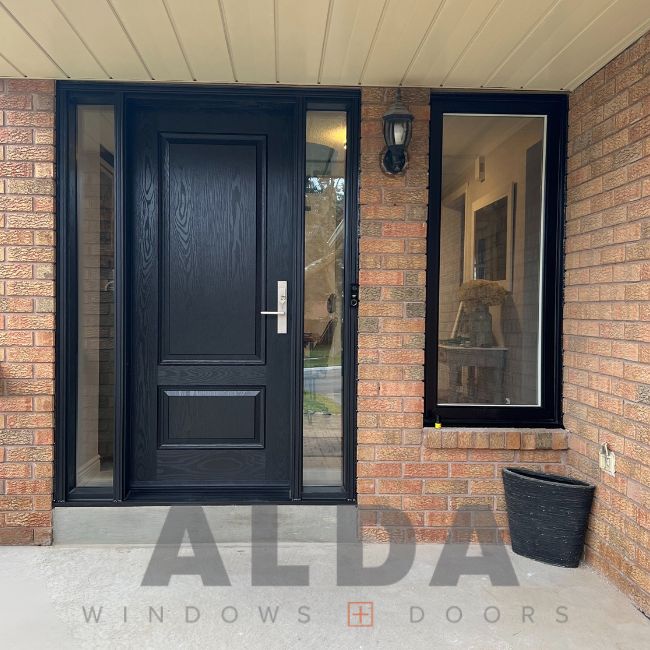 Ready To Replace Your Entry Door in Oshawa?
At ALDA Windows and Doors, we're renowned for our dedication to delivering top-tier products and exceptional installation services. In a recent project, our client in Oshawa expressed immense satisfaction with their new charcoal single-entry fiberglass door. Not only did it elevate their home's visual appeal, but it also boosted the overall energy efficiency. Our meticulousness in our work and our steadfast dedication to ensuring customer satisfaction distinguish us within the industry. We eagerly anticipate executing more successful projects in the times ahead. If you're considering a front door upgrade in Oshawa, don't hesitate to reach out to us. We'd be more than happy to assist you.