Exterior Door Installation in Woodbridge
Front Door Installation in Woodbridge
In Woodbridge, our client sought to elevate their home's entrance, and ALDA Windows and Doors delivered a stunning brown exterior door with two sidelites. This exquisite door features two frosted sidelites and a sleek black door handle, reflecting elegance and style. With highly effective insulation and durable fiberglass material, this door not only looks beautiful but also ensures optimal energy efficiency for the client's comfort. Our team of experts executed the installation with precision and expertise. We carefully placed the two frosted sidelites, allowing natural light to grace the entryway. The sleek black door handle adds a modern touch, complementing the door's sophistication. With attention to detail, we ensured seamless alignment and a secure fit for top-notch insulation. This outdoor door installation adds not only charm but also practicality to the Woodbridge home, making it a worthwhile investment.
TWO FROSTED SIDELITES
HIGHLY EFFECTIVE INSULATION
SLEEK BLACK DOOR HANDLE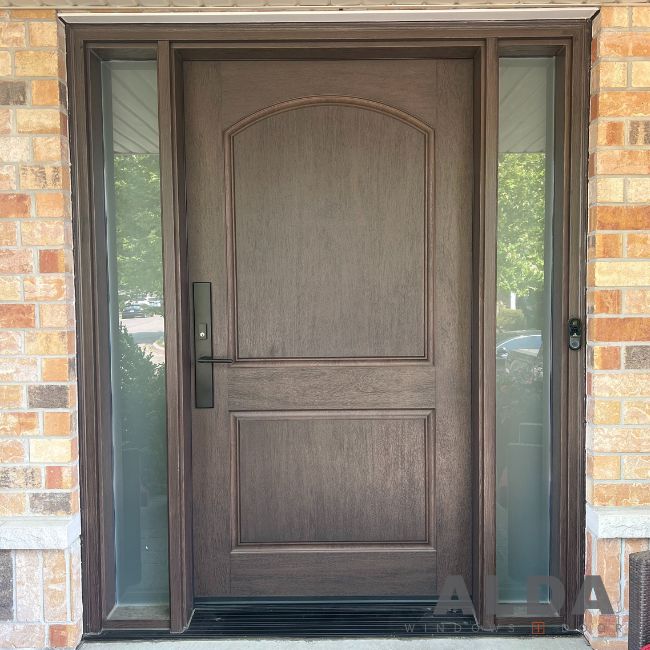 Outdoor Door Installation in Woodbridge – Transform Your Entryway!
At ALDA Windows and Doors, we know the power of a well-designed entry door installation. Our Woodbridge client is thrilled with their upgraded entrance, and we're ready to do the same for you. From the frosted sidelites that bathe your entryway in natural light to the sleek black door handle that adds a touch of modernity, every aspect is carefully curated for your home's unique style. Experience both aesthetics and energy efficiency with our expertly crafted doors. If you're looking to enhance your Woodbridge entrance, contact us today for an exceptional outdoor door installation.