Grey Fiberglass Double Doors With Stylish Golden Handles in North York
Grey Fiberglass Double Doors With Stylish Golden Handles in North York
Our client in North York wanted to upgrade their entrance to make it more inviting for guests and family alike. After browsing through ALDA Windows & Doors' online door catalogue, they found the perfect fiberglass entry door for their house. They decided on grey fiberglass double doors with detailed golden handles for a touch of elegance. The installation process was straightforward, thanks to the assistance of ALDA Windows & Doors. Our team quickly installed the new doors, perfectly integrating them into the existing design of their home's entryway. The homeowners were extremely pleased with the result and felt like they had achieved a regal look without sacrificing any functionality or comfort! The warmth and appeal the new doors brought to their home were undeniable and they couldn't be happier with their selection from ALDA Windows & Doors.
HIGH-GRADE FIBERGLASS ENTRY DOOR
ENERGY EFFICIENT WITH EXCELLENT DURABILITY
SAVE MONEY WITH ENERGY-EFFICIENT MODELS
GLASS INSERTS INSTALLED WITH DOOR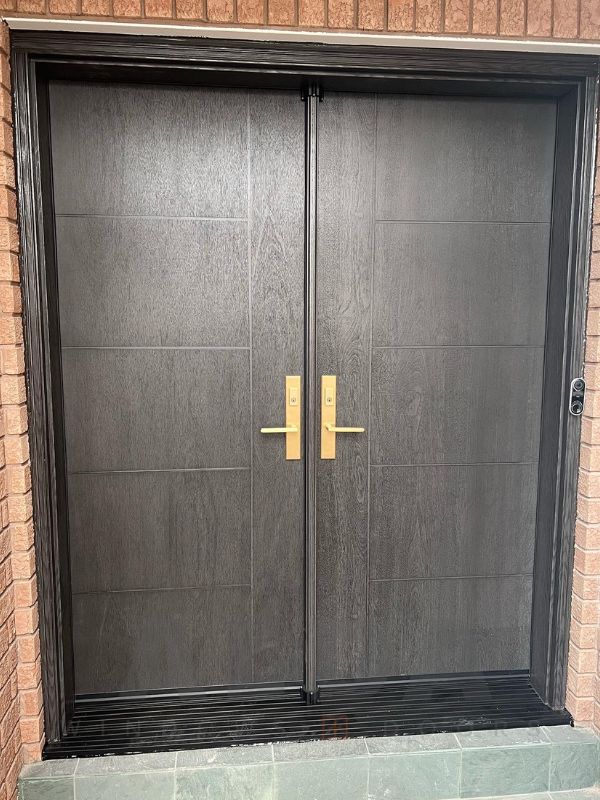 Ready To Replace Your Doors in North York?
Our Grey Fiberglass Double Doors With Stylish Golden Handles installation in North York is an excellent example of how high-quality doors can add value and appeal to your home. For a free evaluation, contact us today.