Modern Fiberglass Door With Traditional Door Handles Installed in Vaughan
Modern Fiberglass Door With Traditional Door Handles Installed in Vaughan
At ALDA Windows and Doors, our years of experience in the industry have earned us a reputation for excellence in door replacements and installations. A client in Vaughan reached out to us after discovering our selection of modern fiberglass doors, and they were particularly captivated by a unique leather-brown 6-panel design.
This sophisticated modern door features an unconventional yet elegant 6-panel layout, crafted from high-quality fiberglass to provide exceptional durability and energy efficiency. The rich leather brown hue is complemented by custom matching trims and a traditional door handle, which lends a touch of timeless elegance to the contemporary design. In addition, the door is accented by a doorbell camera, which our team seamlessly integrated into the installation process for added convenience.
Our team began the project by carefully evaluating the client's existing door, which suffered from poor insulation and resulted in energy inefficiency in the home. We meticulously removed the old door and its frame, avoiding any damage to the surrounding area. Our seasoned professionals took exact measurements of the doorway to ensure that the custom door frame fit flawlessly.
WOOD-GRAIN FIBERGLASS MATERIAL
ENERGY-EFFICIENT DESIGN
MODERN DOOR STYLE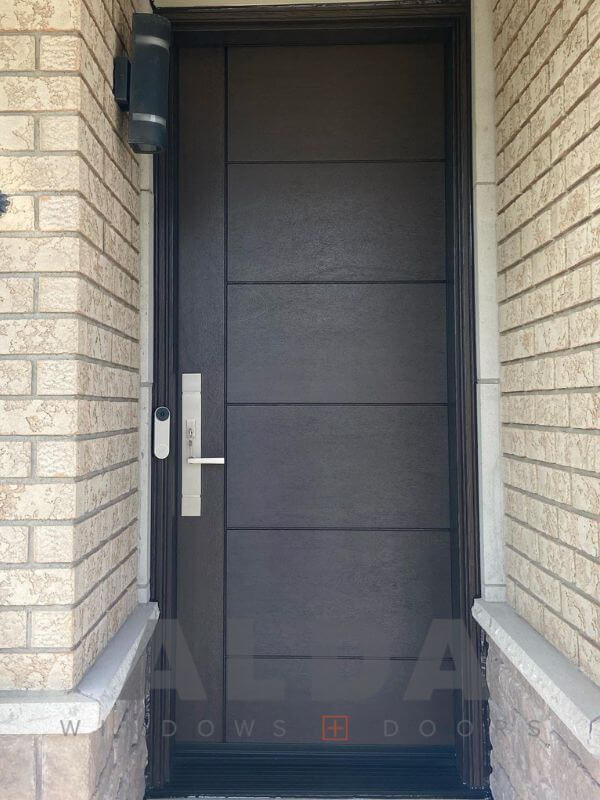 Ready To Replace Your Entry Doors in Vaughan?
This luxurious leather brown colour, combined with the matching trims and the unique 6-panel design, added a touch of modern sophistication to the home's exterior. This eye-catching entrance not only enhanced the curb appeal of the property but also provided the client with a high-performance door that significantly improved their home's insulation and energy efficiency. Overall, the project was a resounding success, demonstrating ALDA Windows and Doors' unwavering commitment to quality craftsmanship, innovative design, and exceptional customer service. If you're interested in getting a free estimate for your door replacement, don't hesitate to contact our experienced team today.