Wood Texture Fiberglass Door Installation in Thornhill
Elevating a Thornhill Home with Modern Fiberglass Entry Door
Our journey with this project began when a homeowner in Thornhill, tired of their old and uninspiring front door, decided it was time for a change. Looking to infuse some excitement into their home's entrance, they reached out to us.
After extensive discussions and understanding their desire for a unique entryway, we landed on a bold choice: a striking black fiberglass double door. This door featured a captivating wood grain texture and frosty glass inserts, perfectly resonating with their vision for a modern and inviting ambiance.
Two frosted glass inserts
Trendy wood grain texture
Highly effective insulation
Sleek golden door handles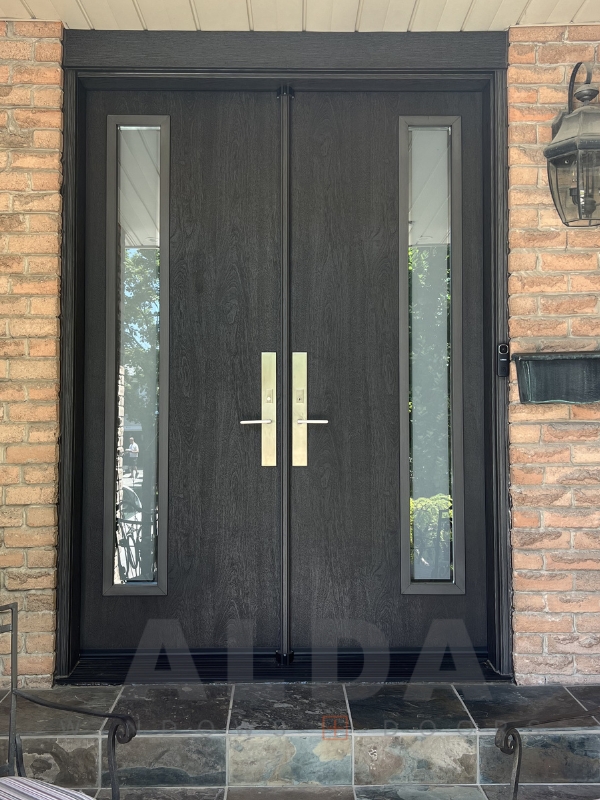 Entry Door Installation in Thornhill and Beyond
Our installation process was a breeze for the homeowner, causing minimal disruption to their daily life. We take pride in our swift and efficient installation techniques, ensuring that our clients can enjoy their new entryway without the headache of a prolonged renovation. What sets us apart is our expansive service coverage throughout the entire GTA. We're dedicated to serving homeowners far and wide, from the heart of Toronto to the outskirts of Thornhill. Wherever you are in the Greater Toronto Area, you can count on ALDA Windows and Doors to transform your entrance into a statement of style and comfort.