Black Luxurious Steel Door With Glass Insert and Two Frosted Sidelites in Brampton
Black Luxurious Steel Door With Glass Insert and Two Frosted Sidelites in Brampton
A client in Brampton recently decided to elevate the look of their home by adding a touch of luxury. They realized that one of the best ways to achieve this was by upgrading their front door, so they contacted ALDA Windows and Doors for help. After discussing various options, they settled on a luxurious steel door with a glass insert and two frosted sidelites on the side of the door. This choice added a sense of elegance to their home and allowed more natural light to enter, creating a welcoming and airy atmosphere.
Since the installation of their new steel door, the client hasn't been happier with the look of their home. The steel door provides a modern and sophisticated touch, while the glass insert and sidelites give it a timeless appeal. Visitors have also commented on how much more inviting the home looks from the street. The added benefits of the new door, such as increased energy efficiency and reduced noise pollution, have been an added bonus for the client. Overall, the client's decision to work with ALDA Windows and Doors to upgrade their front door has paid off, giving them a home that looks and feels more luxurious now.
HIGH-GRADE FIBERGLASS ENTRY DOOR
ENERGY EFFICIENT WITH EXCELLENT DURABILITY
SAVE MONEY WITH ENERGY-EFFICIENT MODELS
GLASS INSERTS INSTALLED WITH DOOR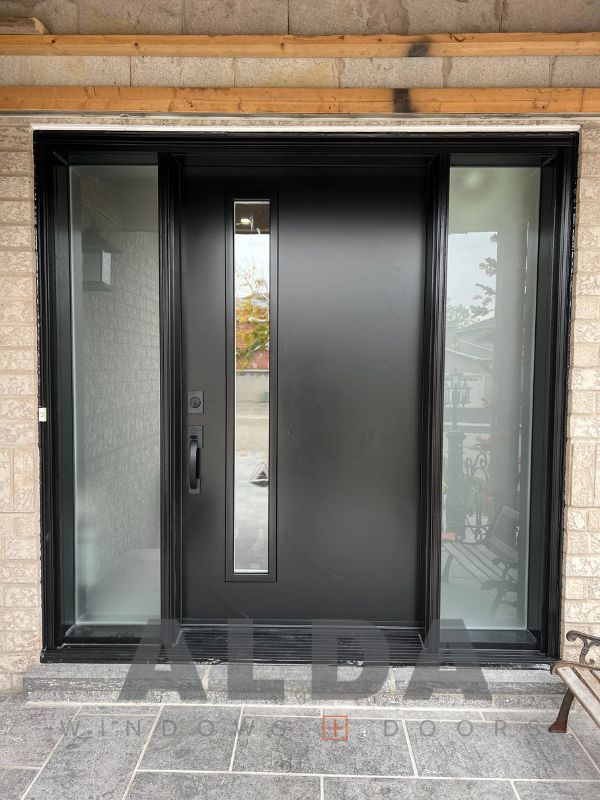 Ready To Replace Your Entry Doors in Brampton?
Our Black Luxurious Steel Door With Glass Insert and Two Frosted Sidelites in Brampton is an excellent example of how high-quality doors can add value and appeal to your home. For a free evaluation, contact us today.