Dark Brown Steel Double Doors Installed in Aurora
Dark Brown Steel Double Doors Installed in Aurora
This modern style door features a rich dark brown hue, complete with custom matching trims that perfectly accentuate the door's modern aesthetic. The luxurious modern pull handles serve as the door's focal point, adding a touch of elegance and sophistication to the entranceway.In keeping with the client's preferences, the door is equipped with a traditional lock, providing style without compromising the door's sleek design.
Our team initiated the project by assessing the client's current door, which was plagued by inadequate insulation, leading to energy inefficiency within the residence. To ensure a seamless transition, we carefully dismantled the old door and its frame, employing diligent techniques to avoid causing damage. Our skilled professionals then proceeded to take precise measurements of the doorway, guaranteeing a perfect fit for the custom door frame, which was crucial for the successful completion of the project.
The dark brown colour, combined with the matching custom trims and elegant pull handles, added a touch of modern sophistication to the home's exterior, making for a truly remarkable entrance. Overall, the project showcases ALDA Windows and Doors' commitment to quality craftsmanship, innovative design, and exceptional customer service, resulting in a striking and secure entranceway that meets the client's needs and preferences.
SOLID STEEL MATERIAL
ENERGY-EFFICIENT DESIGN
MODERN DOOR STYLE
DOOR INSTALLATION IN AURORA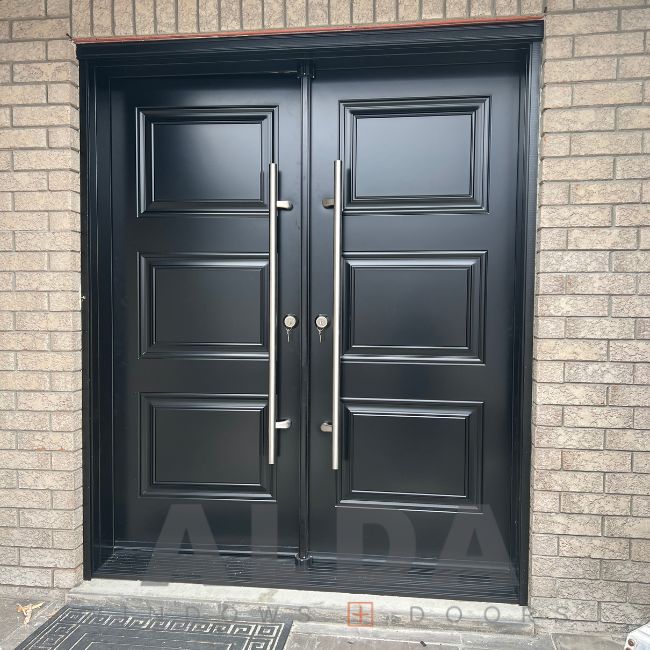 Ready To Replace Your Entry Doors in Aurora?
The striking dark brown colour, paired with the matching custom trims and the elegant modern pull handles, infused a sense of refined sophistication into the home's exterior. This visually appealing entrance not only elevated the property's curb appeal but also delivered a high-performance door that greatly enhanced the home's insulation and energy efficiency. In conclusion, this successful project is a testament to ALDA Windows and Doors' steadfast commitment to exceptional craftsmanship, innovative design, and unparalleled customer service. To receive a free quote for your door replacement, get in touch with us today.