Grey Steel Entry Door With Elegant Wrought Iron Glass Insert Design In Concord
Grey Steel Entry Door With Elegant Wrought Iron Glass Insert Design In Concord
Our Client in Concord was looking for something different to spruce up the entrance of their home. After browsing our online steel door catalogue, they stumbled upon their ideal entry door. They decided on a grey steel entry door with a stunning large glass insert with an elegant wrought-iron design. It was exactly what they were looking for and had a modern twist that would make their front entrance pop. When it came time to install the new door, the satisfaction became even more real. Our client was thrilled with how their entryway now looked and appreciated that they had found a beautiful entry door that fulfilled all of their needs. It's safe to say that these homeowners are now happier than ever with their decision to choose ALDA Windows & Doors for their entry door system!
HIGH-GRADE FIBERGLASS ENTRY DOOR
ENERGY EFFICIENT WITH EXCELLENT DURABILITY
SAVE MONEY WITH ENERGY-EFFICIENT MODELS
GLASS INSERT WITH WROUGHT-IRON DESIGN INSTALLED WITH DOOR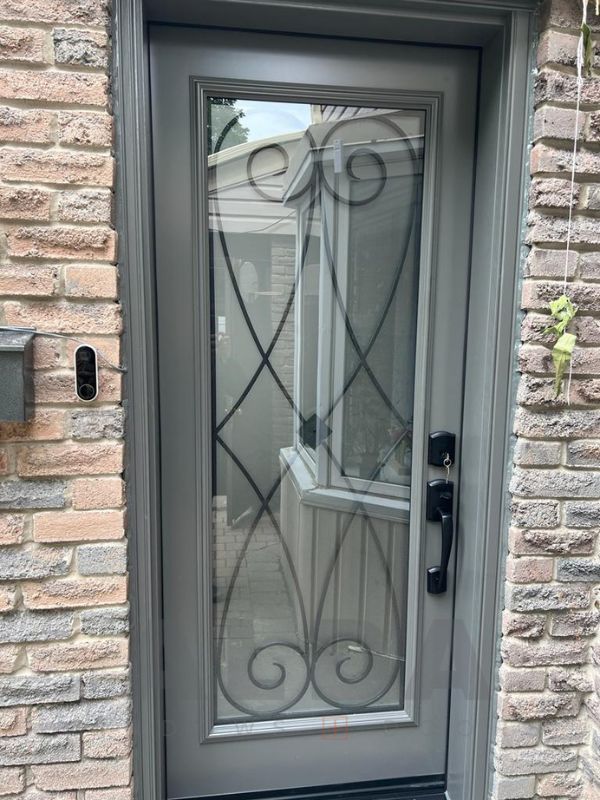 Ready To Replace Your Doors in Concord?
You can see how high-quality doors can make a huge difference to the value and look of your home by looking at this Grey Steel Entry Door With Elegant Glass Insert Design in Concord. If you would like a free estimate, we would be glad to assist you.