Exterior Door Upgraded in Barrie
Elevating a Barrie Home: Exterior Door Upgrade
A stunning exterior door upgrade can make a world of difference in your Barrie home's curb appeal. When our valued client sought to enhance their entryway, they turned to ALDA Windows and Doors, impressed by our wide range of premium door options. Their final choice? An exquisite modern rich brown double door with two privacy glass inserts, reflecting charm and sophistication that perfectly complements their home's style.Our dedicated team worked closely with the client to arrange a convenient installation schedule. Arriving punctually, we handled the removal of their old door and frame with utmost care, ensuring a smooth process. Precise measurements and alignment were meticulously done for the new door frame installation, guaranteeing a perfect fit. With expert craftsmanship, we securely fastened the new door frame and skillfully attached the modern rich brown double door, ensuring flawless functionality. As the finishing touch, we sealed the door with weather-stripping, providing top-notch insulation and a draft-free environment.
TWO PRIVACY GLASS INSERTS
HIGHLY EFFECTIVE INSULATION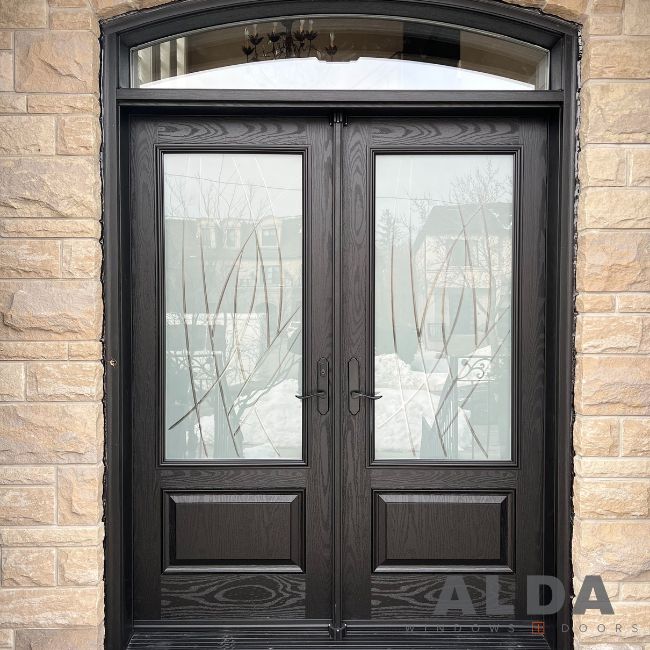 Looking for Exterior Door Upgrade in Barrie?
Our delighted client in Barrie can't stop raving about their new exterior door upgrade! With ALDA Windows and Doors, you'll experience unmatched service and impeccable results. We take pride in exceeding expectations, creating not just a stylish entrance but also an energy-efficient one. Our commitment to customer satisfaction drives us to deliver excellence in every project. If you're considering an exterior door upgrade in Barrie, let us help you transform your home. Reach out to us today!