Grey Fiberglass Woodgrain Entry Door With Sidelites In Maple
Grey Fiberglass Woodgrain Entry Door With Sidelites In Maple
Having been unsatisfied with their existing home door solution, a Maple client wanted to upgrade to something more modern. The door they had seemed outdated and didn't offer the kind of aesthetic appeal that they were looking for. After researching, the client decided to reach out to ALDA for help with finding a suitable front door replacement.
After discussing various options with an ALDA representative, the client ultimately decided on a beautiful grey fiberglass woodgrain door with frosted sidelites. This door offered an updated look that met the client's desired aesthetic but also provided practical benefits such as increased energy efficiency and durability. The frosted sidelites added an extra touch of elegance while still allowing natural light to filter into the home. Overall, the client was thrilled with their new door solution and felt confident in their decision to work with ALDA for their home improvement needs.
HIGH-GRADE FIBERGLASS ENTRY DOOR
ENERGY EFFICIENT WITH EXCELLENT DURABILITY
SAVE MONEY WITH ENERGY-EFFICIENT MODELS
GLASS INSERTS INSTALLED WITH DOOR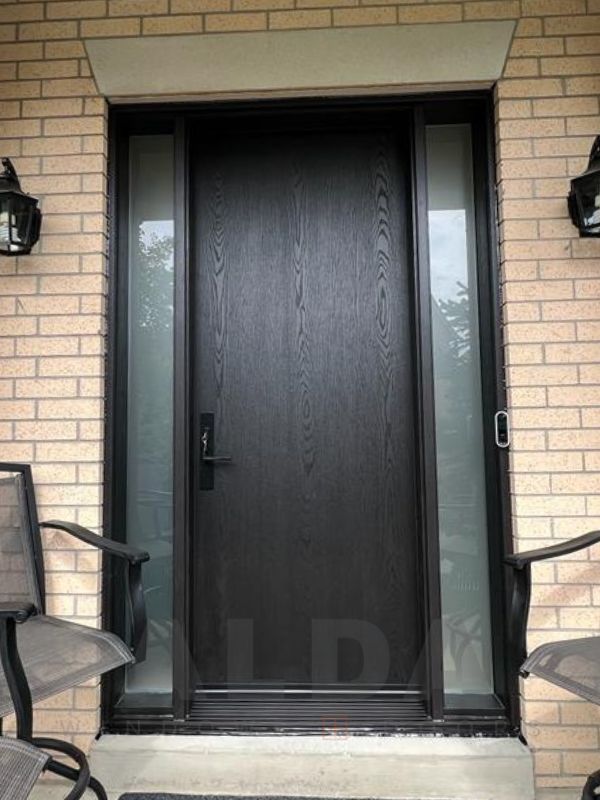 Ready To Replace Your Doors in Maple?
This grey fiberglass woodgrain entry door with sidelites in Maple is an excellent example of how high-quality doors can make a huge difference to the value and look of your home. If you want a free estimate for your home, please contact us.