Outdoor Door Installation in Maple
Front Door Installation in Maple
In Maple, we had the privilege of undertaking yet another front door installation project. The homeowner's vision of a striking brown single door flanked by two frosted sidelights came to life, creating a welcoming and elegant entrance. With our top-quality fiberglass material and emphasis on energy efficiency, the result is both visually stunning and practical. The addition of a sleek silver door handle adds a touch of modernity, completing the transformation to the homeowner's delight.
Our skilled team meticulously planned and executed every detail, ensuring a seamless fit and flawless installation. The two frosted sidelights not only allow natural light to flood the entryway but also add a touch of sophistication to the overall design. This outdoor door installation has undoubtedly elevated the curb appeal of the Maple home, leaving the homeowner thrilled with their charming and energy-efficient entrance.
TWO FROSTED SIDELIGHTS
HIGHLY EFFECTIVE INSULATION
SLEEK SILVER DOOR HANDLE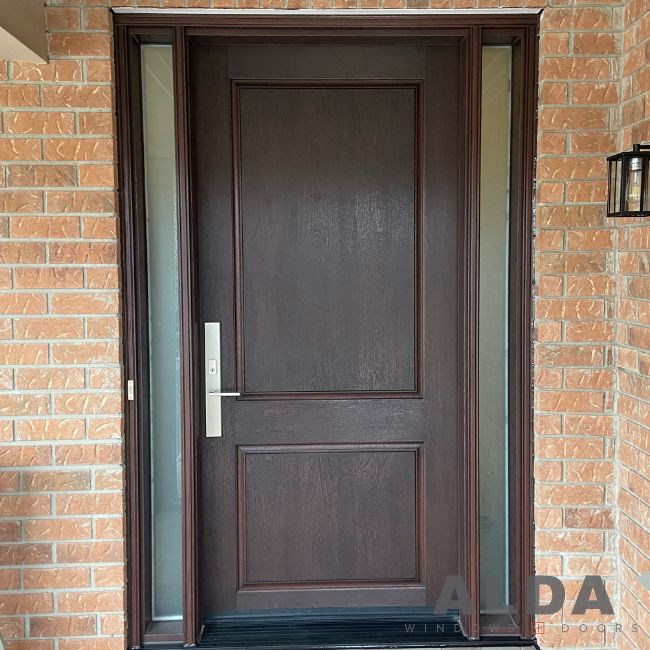 Front Door Installation in Maple – A Statement of Style and Comfort!
At ALDA Windows and Doors, we know that a well-designed outdoor door can make a world of difference. Our Maple client's upgraded entrance is a testament to our commitment to delivering exceptional results. With the stunning brown single door flanked by frosted sidelights, this outdoor door installation creates an unforgettable first impression. The sleek silver door handle adds a touch of modernity, ensuring both style and functionality. We take pride in providing doors that not only enhance your home's aesthetics but also offer energy-efficient solutions. Get ready to welcome guests in style and comfort with our outdoor door installation in Maple.