Deep Purple Door Replacement in North York
Deep Purple Single Door with Sidelite Upgrade in North York
When we received an inquiry from a homeowner in North York seeking a stunning door upgrade, we knew we were in for an exciting project. The desire for something extraordinary led them to choose our trendy deep purple single steel door with a 3/4 decorative glass insert. This bold choice perfectly mirrored their unique style while allowing abundant natural light to grace their entryway.
Our team's attention to detail was evident from the beginning. We took precise measurements, ensuring a seamless fit for the new door. The installation process was a testament to our commitment to quality craftsmanship. With highly effective insulation and durable steel material, we ensured the new door not only elevated the aesthetics but also delivered energy efficiency. This project showcased our dedication to turning ideas into vibrant reality.
One 3/4 decorative glass insert
One glass sidelite
Unique deep purple colour door
Highly effective insulation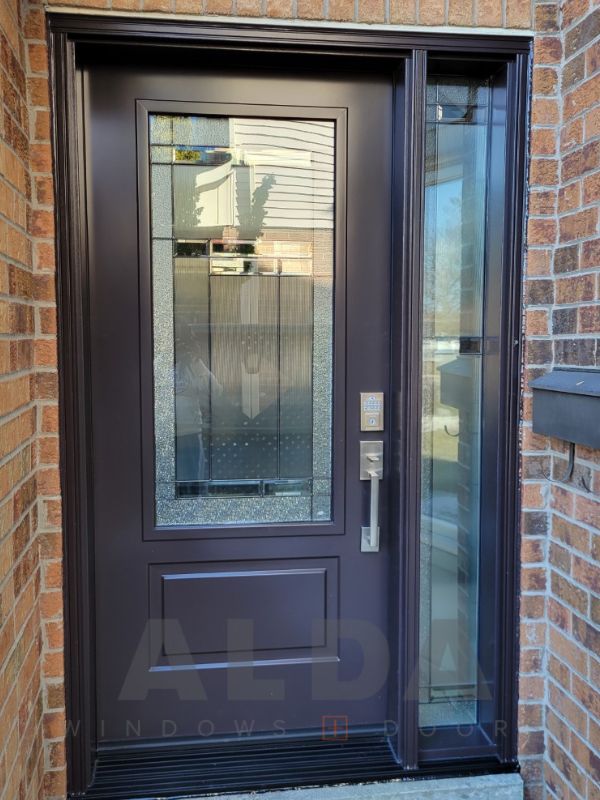 Swift Entry Door Installation, GTA-Wide Reach
Our swift and expert installation team swiftly brought this unique vision to life, seamlessly fitting the vibrant purple door into the North York home. At ALDA Windows and Doors, we pride ourselves on our efficient installations that cause minimal disruption to your daily routine.Beyond North York, our service coverage spans across the entire Greater Toronto Area (GTA). Whether it's a purple door replacement or any other project, we're here to deliver outstanding craftsmanship and service. Our team's commitment to turning homes into works of art is why homeowners all over the GTA trust us to bring their visions to life. Experience the ALDA difference today!