Single Door Replacement in Barrie
Modernizing a Barrie Entryway: Single Door Replacement
In Barrie, our valued client aimed to modernize their entryway, and ALDA Windows and Doors offered the perfect solution. Their choice? A striking single door replacement featuring a modern rich brown color and two privacy glass inserts, radiating elegance and charm. With our team of experts, the transformation was seamless, leaving the client thrilled with their upgraded entrance.During the installation process, our skilled professionals paid meticulous attention to every detail. We carefully removed the old door, making way for the new, sophisticated single door. Precise measurements and alignments ensured a perfect fit, while the expertly installed two privacy glass inserts added a touch of class.
TWO PRIVACY GLASS INSERTS
HIGHLY EFFECTIVE INSULATION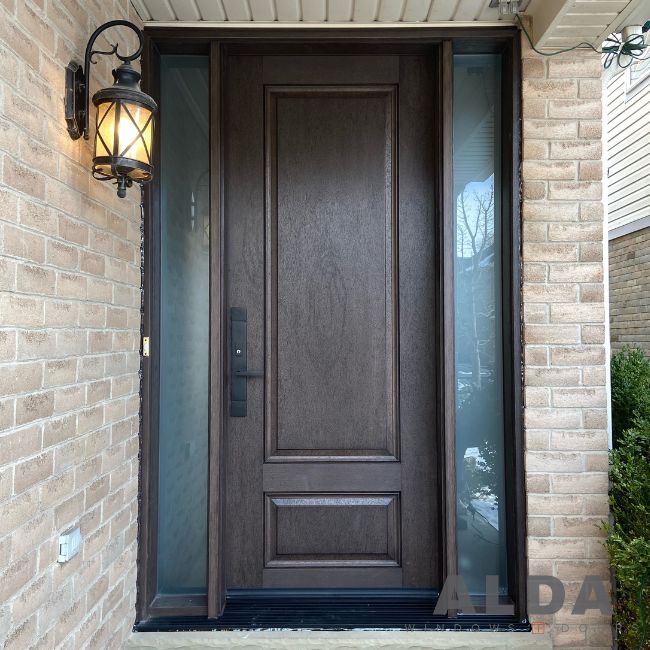 Install a Brown Door with Glass Inserts in Barrie
Our Barrie client couldn't be happier with their single door replacement project. At ALDA Windows and Doors, we take immense pride in delivering exceptional results that go beyond expectations. From the modern rich brown color to the two privacy glass inserts, every detail is thoughtfully curated to suit your home's unique style. Elevate your entryway with us, and experience the seamless blend of sophistication and functionality. If you're looking for a single door replacement in Barrie, contact our team now and turn your vision into reality.