Single Door Replacement in Newmarket
Fiberglass Door Replacements – Single Door Upgrade in Newmarket
Our latest single door replacement project brought a fresh and stylish transformation to a home in Newmarket. Seeking a bold upgrade for their entryway, our client chose ALDA Windows and Doors for our exceptional door options. The chosen sleek black color fiberglass door perfectly matches the home's aesthetic.With high attention to detail, we ensured a seamless installation. The two frosted glass inserts allow soft natural light to brighten the interior while providing privacy. Our highly effective insulation keeps the home comfortable and energy-efficient, and the durable fiberglass material ensures long-lasting durability. As the finishing touch, we added a sleek silver door handle, providing both functionality and a touch of sophistication.
Trendy modern design
Two frosted glass inserts
Highly effective insulation
Sleek silver door handle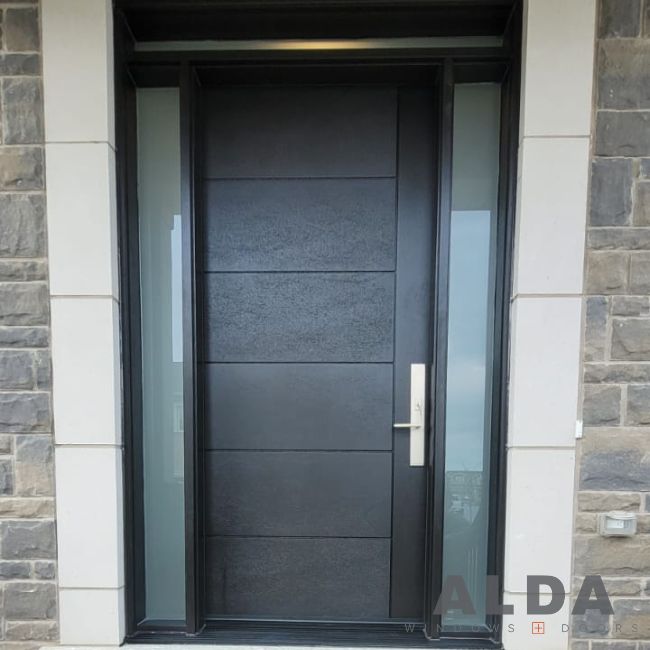 Entry Door Installation in Newmarket
Our recent single door replacement project in Newmarket showcases our dedication to exceptional craftsmanship. The sleek black color fiberglass door with trendy modern design elevates the home's style, while two frosted glass inserts allow soft natural light to grace the interior with privacy. Highly effective insulation and durable fiberglass material ensure a comfortable, energy-efficient, and long-lasting solution. Looking for an entry door upgrade in Newmarket or anywhere in GTA? Contact us today!