Black Entry Door Installation in Erin Mills
Black Steel Entry Door with Glass Inserts and Sidelite
A homeowner in Erin Mills decided it was time to upgrade their home's entryway. What prompted their call to us? Our stellar Google reviews. Word of mouth and happy customers say a lot, and we're thrilled our reputation caught their attention.Their choice? Our black steel single door with glass inserts, meticulously designed to seamlessly blend aesthetics with modern convenience. This door boasts a full glass insert and a sidelite, capturing the essence of contemporary living. Its black color adds a touch of sophistication, transforming the home's exterior into a stunning focal point. The inclusion of a smart lock simplifies access to the home.
One full frosted glass insert
One frosted sidelite
Highly effective insulation
Modern Smart Lock
Durable steel material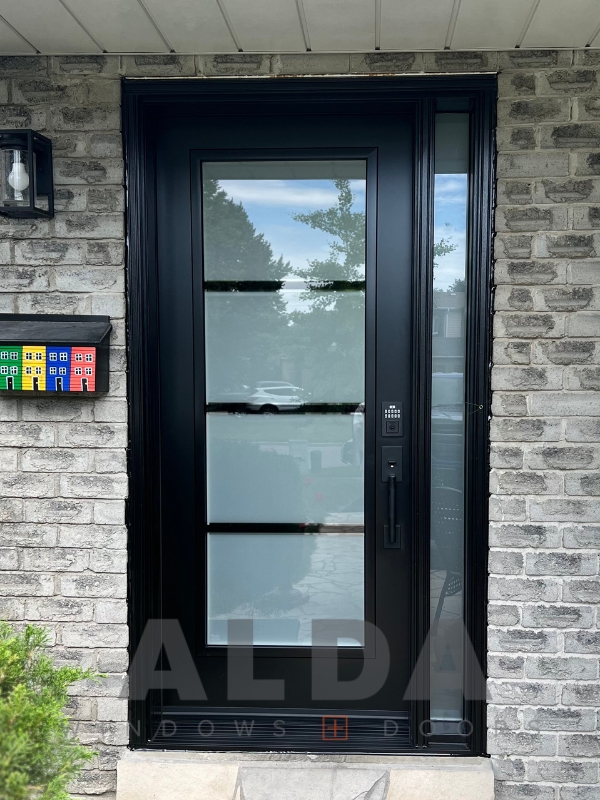 Entry Door Installation all over the GTA
At ALDA Windows and Doors, we cover more than just Mississauga, our services extend across the entire Greater Toronto Area (GTA). Our commitment to excellence is mirrored in our swift and disruption-free installation process.Our skilled team ensures that the installation process is as seamless as possible, minimizing any disruption to your daily life. The result is a perfectly fitted door that provides highly effective insulation, enhances security, and elevates your home's curb appeal. Upgrade your entryway today and let your home reflect your personal touch.