Installing a Front Door with Full Glass Panel in Thornhill
Modern Front Door with Glass Insert Installation in Thornhill
When a Thornhill homeowner sought to enhance their entryway, they reached out to ALDA Windows and Doors, having been referred by their impressed neighbors. At ALDA, we understand that a door is more than just an entrance; it's a statement of style and functionality. The chosen solution was our modern dark brown steel single door, designed with a full glass insert to seamlessly integrate natural light into the living space.
Our team ensured that the door was custom-made to meet the homeowner's specific requirements, from the deep brown color that adds warmth and character to the smart lock that enhances security and convenience. This carefully crafted door became a captivating statement piece that not only elevated the curb appeal but also connected the indoor and outdoor spaces, creating an inviting and harmonious atmosphere.
One full glass insert
Highly effective insulation
Modern Smart Lock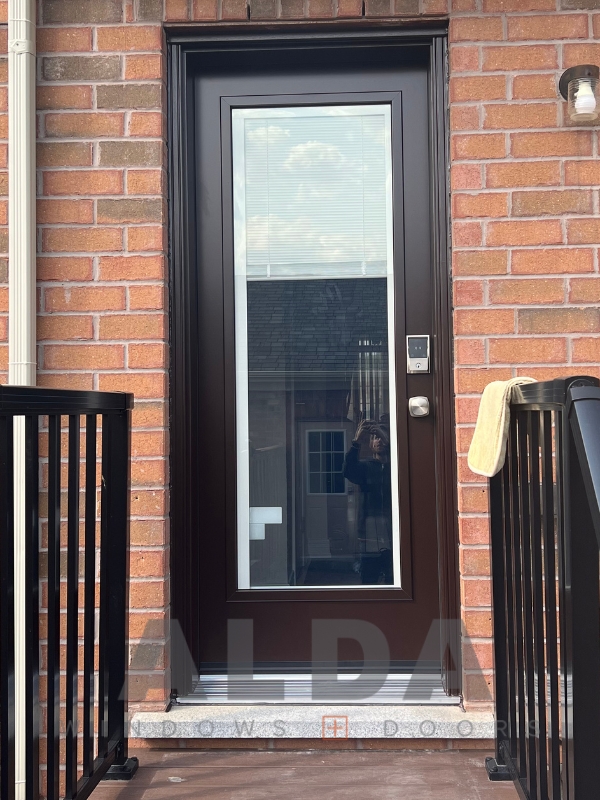 Front Door Installation all over the GTA
At ALDA Windows and Doors, we pride ourselves on providing not only exceptional products but also swift and disruption-free installations. Our commitment to excellence extends beyond Thornhill; we serve the entire Greater Toronto Area (GTA).
Our installation process is designed for minimal disruption to your daily life. Our skilled team ensures that your new door is expertly fitted, guaranteeing highly effective insulation and functionality. With a focus on quality craftsmanship and professionalism, we bring your vision to life efficiently and seamlessly.