Dark Brown Steel Door With A Mosaic Style Glass Insert And Sidelite In King City
Dark Brown Steel Door With A Mosaic Style Glass Insert And Sidelite In King City
In King City, a client recently wanted to upgrade their home with extravagant elements, so they contacted our team of experts to help them achieve that goal. After looking through our vast catalogue of doors to choose from, this King City homeowner, after discussing various options with their team, chose to install a dark brown steel door that has a mosaic glass insert and sidelite after discussing several options with their team. This choice added an air of sophistication and uniqueness to the home, thereby separating it from the rest of the neighbourhood. The new door also increased the property's curb appeal, giving it a more polished and modern look. Since the installation of their new steel entry door, the client hasn't been happier with the look of their home. The dark brown steel door provides a rich and inviting feeling while the mosaic-style glass insert and sidelite give it a stylish and artistic touch. Overall, the client's decision to work with ALDA Windows and Doors to upgrade their front door has been a success, providing them with a home that looks and feels more luxurious than ever before.
HIGH-GRADE FIBERGLASS ENTRY DOOR
ENERGY EFFICIENT WITH EXCELLENT DURABILITY
SAVE MONEY WITH ENERGY-EFFICIENT MODELS
GLASS INSERTS INSTALLED WITH DOOR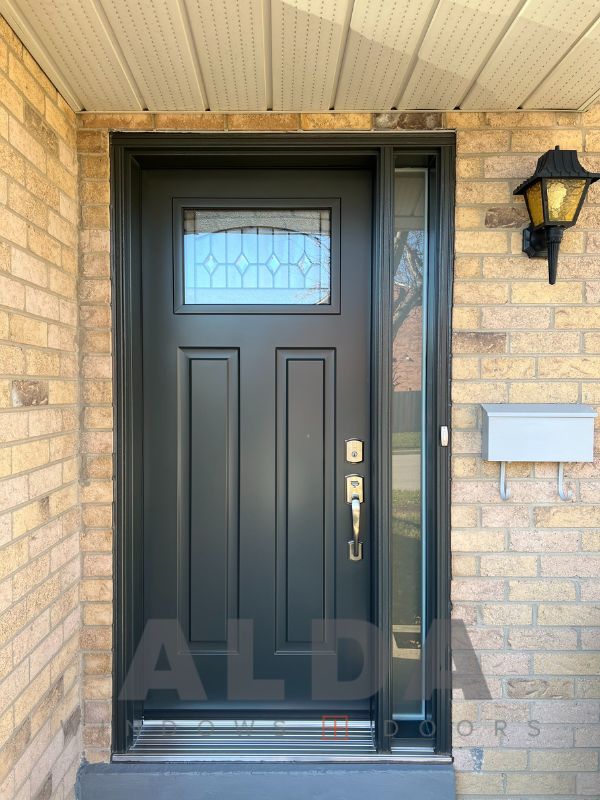 Ready To Replace Your Entry Doors in King City?
Our dark brown steel door with a mosaic-style glass insert and sidelite is an excellent example of how high-quality doors can add value and appeal to your home. For a free evaluation, contact us today.