Dark Brown Steel Door With Mosaic-Style Glass In King City
Dark Brown Steel Door With A Mosaic Style Glass Insert And Sidelite In King City
A homeowner in King City was interested in replacing their front door, and contacted our team here at ALDA for more information on his options. After looking through our catalogue, he chose a gorgeous dark brown steel door that has a mosaic glass insert and a sidelite.
Shortly after the consultation, our team arrived at the property and removed his old door. We replaced the frame, ensuring the new one seamlessly met the walls of the home, then inserted the new door. The customer had great taste, and hardly needed our advice on colour options. The dark shades of the new door contrast nicely with the front of his house, and really bring the property to life. 
Some features of this door include:
HIGH-GRADE STEEL MATERIAL
ENERGY EFFICIENT DESIGN WITH EXCELLENT DURABILITY
A UNIQUE AND MODERN LOOK
A CLASSY MOSAIC GLASS INSERT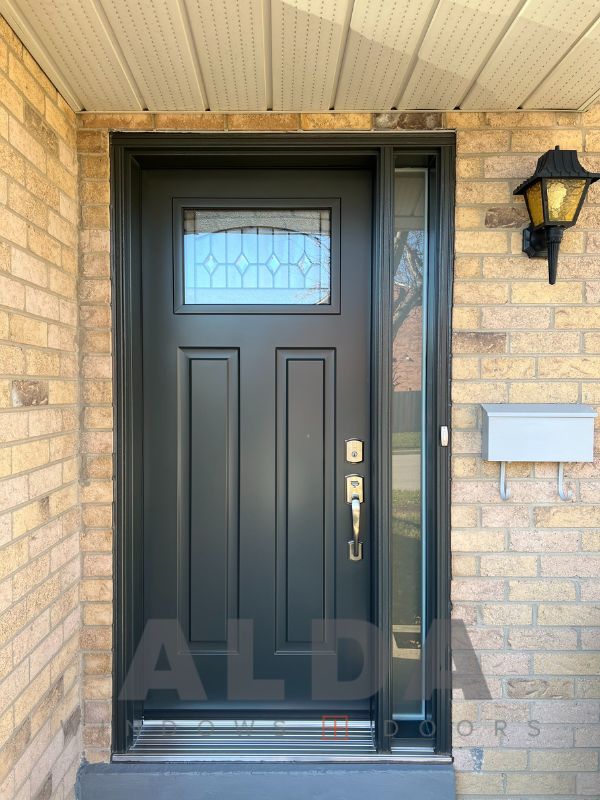 Ready To Replace Your Entry Doors in King City?
This dark brown steel door is an excellent example of how high-quality doors can add value and appeal to your home. For a free estimate on getting your own replacement door, contact our team of experts today.