Pine Cone Grey Steel Door Replacement With Smart Locks and Traditional Door Handles in Thornhill
Pine Cone Grey Steel Door Replacement With Smart Locks and Traditional Door Handles in Thornhill
At ALDA Windows and Doors, we pride ourselves on our ability to provide clients with top-quality door replacements and installations. We recently completed a project that truly showcased our expertise in this field. A client in Thornhill reached out to us after browsing our online steel door catalogue and falling in love with a stunning double-door model.
This modern entry door is a beautiful pine cone grey colour, complete with matching trims and traditional door handles. Our client was also interested in upgrading their locking mechanism and chose to install a smart lock system along with the door.
The installation process began with a thorough assessment of the client's old door, which lacked proper insulation, leading to energy inefficiency in the home. Our team carefully removed the old door and its frame, ensuring that the surrounding area was not damaged in the process.
Once the old door was removed, we began the installation of the new steel double door. Our skilled contractors took precise measurements of the doorway, customizing the door frame to fit perfectly. The pine cone grey colour and matching trims added a touch of elegance to the home's exterior, creating a welcoming and sophisticated entrance.
HIGH-GRADE STEEL MATERIAL
ENERGY EFFICIENT DESIGN
A UNIQUE AND MODERN LOOK
TWO CLASSY TEMPERED GLASS INSERTS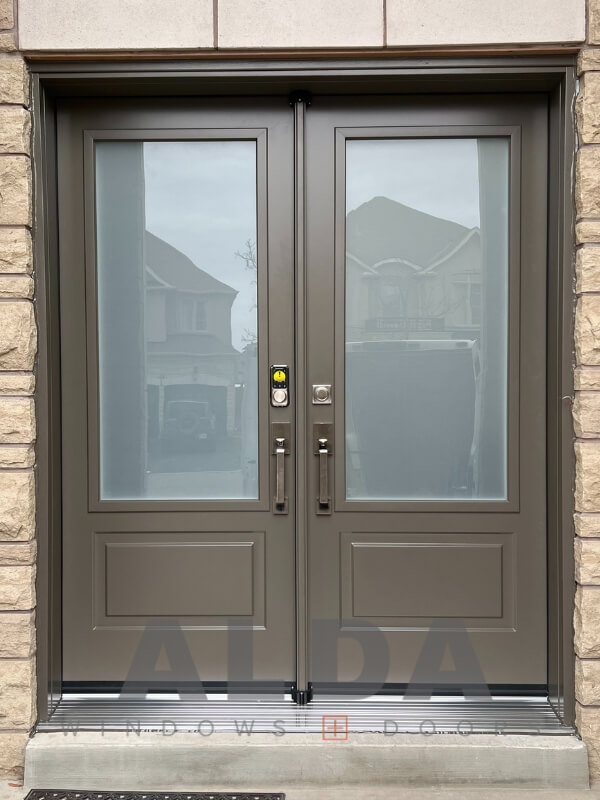 Ready To Replace Your Entry Doors in King City?
At ALDA Windows and Doors, we are passionate about our attention to detail and commitment to customer satisfaction. This project was no exception, as we successfully replaced our client's old door with a stunning new steel double door that not only improved the home's aesthetics but also its security and energy efficiency. Our team of experts is always ready to tackle door replacement and installation projects of any scale, and we look forward to exceeding our client's expectations on every job. For a free estimate on getting your own replacement door, contact our team of experts today.