Sandrift Brown Single Steel Door Installation in Barrie
Sandrift Brown Single Steel Door Installation in Barrie
Our client in Barrie was looking for a change in their front door to enhance their home's curb appeal. While searching online, they came across our website and were impressed with the variety of front doors for sale. They decided on a beautiful sandrift brown single-entry steel door that would seamlessly blend with their home's aesthetic.Upon receiving the client's request, we set up an appointment for the steel door installation. Our experienced team arrived at the client's residence, fully prepared with all the necessary tools and equipment.
The first step involved carefully removing the old door and its frame. We then measured and marked the new door frame's position, ensuring it was properly aligned and levelled.Next, our team proceeded to install the new door frame. We secured it in place with screws and added shims to guarantee a snug fit. We then attached the sandrift brown single-entry steel door to its hinges, ensuring it opened and closed smoothly. Once the door was properly aligned and functioning correctly, we applied weatherstripping around the frame to provide an airtight seal and prevent drafts.Following the installation of the door, our team moved on to the storm door installation.
We secured the storm door to the exterior of the brown single door's frame, ensuring the hinges were properly aligned. We then attached the door handle and lockset, followed by the door sweep and weatherstripping. Our team meticulously adjusted the door closer to ensure the storm door operated smoothly and closed securely. After installation, we conducted a comprehensive quality check to ensure that the storm door was properly installed and functioning at its best.
SOLID STEEL MATERIAL
MODERN DOOR STYLE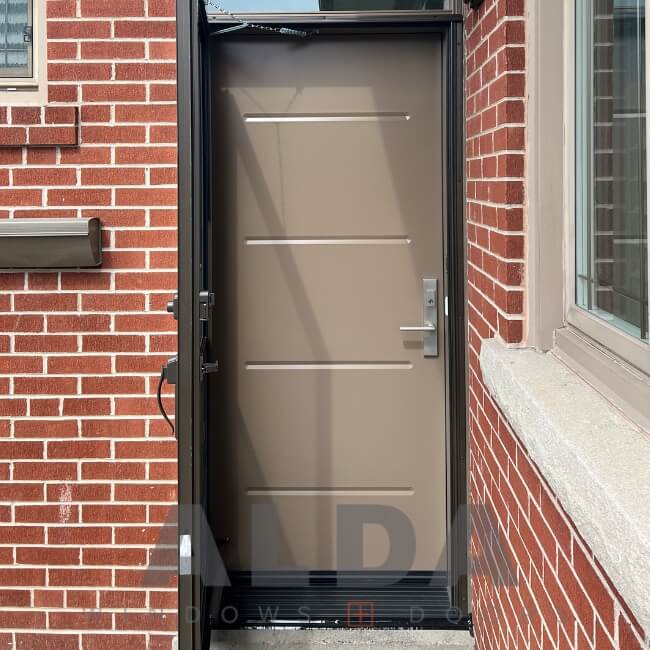 Ready To Replace Your Front Doors in Barrie?
At ALDA Windows and Doors, we take pride in providing high-quality products and exceptional installation services. In this project, our client in Barrie was thrilled with their new sandrift brown single-entry steel door and storm door, both enhancing their home's aesthetic and providing improved energy efficiency. Our attention to detail and commitment to customer satisfaction are what set us apart in the industry, and we look forward to many more successful projects in the future.Are you in the market for a front door replacement? Get in touch with us today.